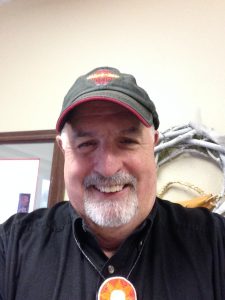 Meet Our Vicar
The Reverend Joseph Scheeler or "Father Joe" accepted the call to be Vicar at All Saints Episcopal Church in January of 2015.
Prior to his arrival at All Saints, Father Joe served as Canon for Native American Ministry for the Episcopal Diocese of Montana and also as Priest Associate at St. Peter's Episcopal Cathedral in Helena, Montana. While serving at St. Peter's Cathedral, Father Joe and his wife Mona began and served The Togendowagan Society, a vibrant First Nations congregation within the St. Peter's Cathedral Community. Father Joe was admitted to the Sacred Order of Deacons on November 10, 2001 and to the Sacred Order of Priests on October 8, 2002 in the Episcopal Diocese of Montana. On March 17, 2002, Father Joe took vows and was admitted to The Society of Saint Francis, Third Order.
While serving the Episcopal Church, Father Joe also maintained a long secular career as an engineer and scientist in the field of environmental protection with companies around the world. In addition to serving the All Saints community, Father Joe is on the Spiritual Care staff of Legacy Salmon Creek Hospital as a Chaplain.
Father Joe has been married to his wife, Mona, for 33 years. Mona is an Ob-Gyn nurse and professional grandmother to grandbabies Ramona and Lyrick. Mona and Father Joe have two daughters, both living in Vancouver. Daughter Alise, serves as the Executive Director of the Oregon Community Heath Workers Association. Daughter Jennalee, is a kindergarten teacher with the Vancouver School District, Lincoln Elementary School. Father Joe is a US Navy Veteran.
Please come by and meet Father Joe and Mona, Alise, Jennalee, Ramona and Lyrick. We are looking forward to getting to know you.